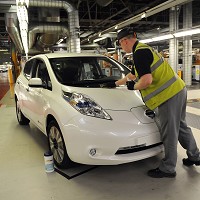 Nissan recently clocked up the 3,000th sale of its all-electric Leaf in the UK - underlining its position as the leader of the electric car market.
The Japanese automaker hit the landmark in November when a total of 141 new Leafs were registered at dealerships across the country.
Motorists in the UK have quickly taken to the car since its launch in 2011, with many won over by its blend of environmentally-friendly and economical motoring.
In fact, after the second generation Leaf went on sale in May 2013, more than 1,300 models have been sold in the space of just six months.
Jon Pollock, Sales Director at Nissan GB, described hitting the 3,000 mark as a "fantastic achievement" for the automaker.
"The Leaf is a true pioneer in every sense and in its lifetime it's already done a huge amount to change attitudes and open minds in the UK and across the world," he said.
"The low running costs of the Leaf, not to mention its many other benefits, make it an incredibly attractive proposition and we have been seeing steady growth in sales."
Over 16,000 Leafs have been sold across Europe to date, while global sales have now topped an astonishing 87,000.
Copyright Press Association 2013