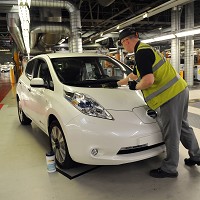 Boris Johnson has praised the British-built Nissan Leaf for its role in tackling climate change around the world.
The Mayor of London was speaking at the UN climate change conference in Paris, where the latest version of the electric car was used as the official shuttle, transporting visitors from A to B around the city.
He posed for photographs with the car, which is manufactured at the Nissan factory in Sunderland.
The all-electric Leaf is capable of travelling 155 miles on a single charge, thanks to a more powerful battery pack that was introduced this year.
It is the best-selling electric car in history, yet sales have not lived up to Nissan's expectations.
But Mr Johnson was full of praise for the Leaf as he took a trip in one at the conference. He says such zero-emission cars are playing a real part in improving air quality in cities and tackling climate change.
The mayor gushed at seeing a British-built export driving around the streets of Paris as the official shuttle car of a major UN conference, describing it as a good feeling.
Copyright Press Association 2015. Motoring News articles do not reflect the RAC's views unless clearly stated.