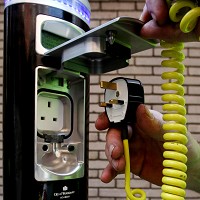 Nissan, the manufacturer behind electric vehicle (EV) the Nissan LEAF, is leading a consortium which aims to establish a network of rapid chargers for EVs running the length and breadth of the United Kingdom.
A total of 74 rapid chargers will be installed when the project is complete, and these will cover more than 1,100 km of major trunk routes, providing links to five seaports and five international airports.
The project is known as the Rapid Charge Network (RCN) and was presented at the Trans European Transport Network (TEN-T) event in Tallinn, Estonia. Estonia was the first country in the world to open an EV fast-charging network nationwide.
Nissan is leading the funding for the project which is being co-financed by the European Union through the TEN-T programme.
Further contributions are being made by fellow consortium members Renault, BMW and Volkswagen, as well as ESB, Ireland's Electricity Supply Board.
Copyright Press Association 2013