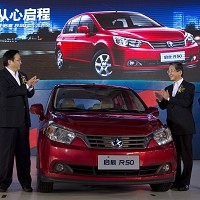 Nissan has bounced back from a temporary dip in sales by revealing the second model from its Venucia bargain basement range.
The R50 hatchback is one of a new wave of budget vehicles made by Japanese, American and European manufacturers that are homing in on China's low-price market.
Car sales had briefly dropped last month after anti-Japanese protests, but Nissan hope the 67,800 yuan (£6,714) Venucia will prove to be a hit outside China's major cities.
Nissan teamed up with Chinese firm Dongfeng Motor to create the first low cost model, the D50 Sedan, which entered the market for the first time in April.
China lifted a mandatory ban on foreign companies offeringcar insurance policies earlier this year, prompting a scramble from western-based insurers to grab their share of the $50bn market.
Global carmakers are also looking to tap into the emerging low-end Chinese car market, which is focused on providing budget vehicles in smaller cities and countryside locations.
Copyright Press Association 2012