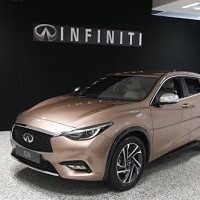 Nissan's first batch of Infiniti Q30s has started rolling off production lines in Sunderland.
It is the first major new brand of car to be manufactured in Britain for 23 years.
The premium "active compact" brand is seen as a rival to BMW, Lexus, Mercedes and Audi. The cars will be shipped to the US, China and other overseas markets.
The historic occasion comes just three months after Nissan's record-breaking Sunderland factory announced it would be making a new generation of Jukes.
This, it said, will help to secure tens of thousands of jobs in the region.
The Q30 project comes as a result of Nissan pumping £250 million into its Sunderland base, helping to create 300 jobs. The car factory, the biggest in Britain, employs 6,700 workers.
Nissan says it decided to make the model in 2012 following the high standards set by its Sunderland workforce.
Roland Krueger, Infiniti president, and Trevor Mann, the car company's chief performance officer, saw the first car roll off the production line.
Mr Krueger says it is entering new ground with its Q30 after unprecedented worldwide sales. He hopes the new vehicle will become a key player in its bid to become a leading premium brand across the globe.
Mr Mann called the Sunderland plant world-class and highly skilled with dedicated staff producing top-selling, high-quality cars.
Copyright Press Association 2015. Motoring News articles do not reflect the RAC's views unless clearly stated.