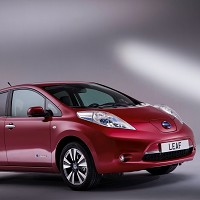 Nissan has listened to its customers and made more than 100 detailed alterations and updates to the all-electric Leaf.
Customers offered the Japanese car giant feedback through forums, while the Leaf's telematics system also played a role in improving the zero-emission car. The changes come as the company starts manufacturing at its plant in Sunderland.
The Leaf now features a new powertrain, which lifts the range from 109 miles to 124 and allows additional boot space, offering 370 litres overall and an unobstructed area when the seats are down. .
Drag has been cut down courtesy of improved aerodynamics, while a new-look suspension created for European road conditions will ensure a smoother ride and better handling.
Visia, Acenta and Tekna models now make up the Leaf range, which is set to hit UK showrooms this summer. Motorists keen to take advantage of the new and improved Leaf should ensure they have acar insurance policy which offers the best protection for their new vehicle.
Copyright Press Association 2013