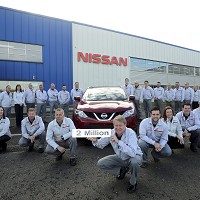 A popular Nissan model has hit the 2 million milestone faster than any previous UK-produced car.
Sunderland motor plant workers took under eight years to produce this many Qashqais.
The Japanese company now accounts for a third of all UK-made cars. It means that the Sunderland workforce produces three motors every minute. As many as 85% of them are exported across 132 overseas countries. The landmark model was a red n-tec version.
And the crossover vehicle now has another record in its sights.
The factory's all-time production record is 2,368,704 for the Nissan Micra, but this was over 18 years between 1992 and 2010.
Nissan's £534 million investment helps to support over 11,000 jobs in Britain. The first Qashqai came off Sunderland's production line in December 2006.
Vince Cable, the Business Secretary, said Nissan is helping the UK to a "world-renowned" reputation in the automotive sector.
Copyright Press Association 2014