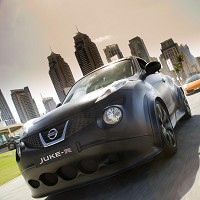 Nissan has responded to public demand by announcing plans for limited production of its Juke-R prototype.
The carmaker had originally vowed not to build the vehicle but has now done a U-turn after the public lapped up what was intended as a one-off concept vehicle.
A highly limited run of the car will now go ahead on a build-to-order basis following the positive public reaction to the 480-bhp concept car, which was filmed racing against supercars in Dubai.
At least three motorists will now be in the market for a new car insurance deal after tabling genuine offers for the car.
One difference the production vehicles will have is they will use the current 545bhp equivalent, making them even more ballistic than the original.
The first three made-to-order cars are already in production and will be delivered late in the summer.
Marketing product manager for the Juke, Gareth Dunsmore, said: "With such a strong reaction, and with three genuine offers on the table, we decided we had to make the car a reality.
"We can't let down enthusiasts who are this keen to add to their collection of cars.
"The Juke-R has become something of a phenomenon and I'm enormously proud of the impact it has had.
"There will be more news to come on Juke later in the year."
Copyright Press Association 2012