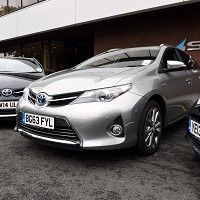 People who use company cars are more likely to drive faster than the 70mph speed limit on motorways than those in their own vehicles, new research shows.
The RAC poll of 1,526 British drivers suggests nearly nine in every 10 workers using company cars (88%) break the speed limit, while two thirds of drivers do so in their own cars (67%).
Nearly twice as many work vehicle drivers (62%) hit 80mph on motorways than other motorists (32%), and 8% of those driving work vehicles reach 90mph.
Only 3% of drivers do that in cars they bought themselves.
Around a third of people who speed in work vehicles (31%) say they do it in normal traffic conditions, but 19% say they only do it in the best driving situations.
More than one in seven (15%) of company car drivers think 70mph is too slow and around one in 10 (8%) are of the opinion that cars are made to go faster.
Two thirds of people who drive work vehicles (65%) think it is OK to drive at 80mph when the speed limit is 70mph and nine in 10 of them (90%) say the motorway limit should be higher, while 69% of other drivers feel the same.
People who are caught for speeding will usually end up having to pay more for their car insurance .
RAC business services director David Aldridge said: "With the introduction of next generation 'smart motorways', where the hard-shoulder is open permanently or during busy periods, and variable speed limits enforced by verge-side speed cameras, there is a real danger that company car drivers may find themselves increasingly on the wrong side of the law and faced with growing numbers of points on their licence."
Copyright Press Association 2014