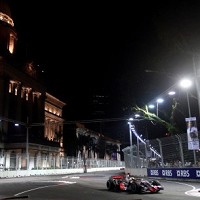 Drivers face added dangers on the roads with the clocks having gone back last weekend.
The earlier nights mean motorists have to drive with additional care in darker conditions, so the Institute of Advanced Motorists has put together a seven-point plan to minimise your chances of a seasonal prang.
In addition, RAC spokesman Simon Williams comments: "Despite the current mild temperatures, it is vital to prepare for the onset of winter. In order to help motorists deal with difficult conditions the RAC has set out tips and advice on our website, which can be found online here ."
Many people suffer from night myopia, so maximise your chances of seeing hazards disguised by the dark by wearing your glasses or contact lenses at all times if you need them. Never go out without a spare set in the glove compartment.
Keeping your distance is one of the golden rules of motoring. But it becomes even more paramount with the darker evenings. Calculating other vehicles' speed is more difficult after dark.
Ensure that your windows and mirrors are squeaky clean before you set off to ensure the best-possible night visibility, especially if there is mist or ice around.
Always use your main beam on roads with no street lighting. But take care not to dazzle other drivers, so dip the lights when appropriate.
Utilise the helpful tools around you to drive in bad light. This means using motorway studs and reflective street signs.
Halloween presents an added seasonal hazard, so take additional safeguards during trick-or-treat night, especially when looking for children who may appear from between parked motors.
Finally headlights are invaluable when visibility is poor so check them regularly.
Copyright Press Association 2014