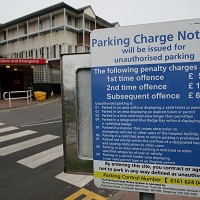 New figures obtained during a Freedom of Information study by the Press Association reveal hospitals across the country are raising increasing amounts of money from parking.
Seven NHS trusts earned more than £3 million from parking fees in 2014/15. Eight made more than £2 million, while a further 33 earned over £1 million.
Nearly half of all trusts also charged disabled people for parking in some or all of their disabled spaces.
The findings show some hospitals are handing over millions of pounds to private firms to run their car parks for them, as well as letting them cash in on parking fines should motorists overstay.
Other hospitals are tied into private finance initiative contracts, meaning all of the money raised from parking goes to private firms under lengthy contracts, rather than being reinvested in front-line services.
Katherine Murphy, chief executive of the Patients Association, is concerned that hospitals in England still charge patients for a parking space. Hospitals in Wales and Scotland scrapped charges several years ago.
Patients in England even run the risk of hefty fines for overstaying, with private firms waiting to pounce.
Ms Murphy says this is "morally wrong" and describes charging disabled people to park as a "disgrace".
Copyright Press Association 2015. Motoring News articles do not reflect the RAC's views unless clearly stated.