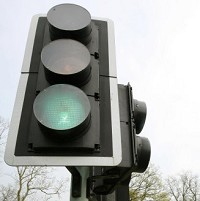 A new rush-hour traffic trial has been given the green light to try and reduce city centre congestion in the North East.
The £8.6 million Europe-wide Compass4D scheme uses newly-developed satnav technology, which can advise motorists to change their speed in order to pass through a series of green traffic lights.
Experts from the University of Newcastle have teamed up with Newcastle City Council to try and reduce traffic jams and vehicle emissions associated with stop-start driving.
Phil Blythe, professor of intelligent transport systems at Newcastle University, said the trial will deliver information from existing traffic management systems directly to the driver.
"The system might advise a driver that if they travel at 24 miles an hour they will hit the next four sets of traffic lights on green," said Prof Blythe.
"In more congested areas or particularly busy times of the day, then key roads might be given priority in order to keep the traffic flowing."
Should the scheme prove successful, British motorists could soon be able to use their satnav as more than ajourney planner .
Copyright Press Association 2013