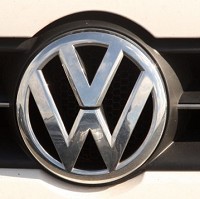 Motorists buying a Volkswagen Passat will be able to opt for a plug-in hybrid version for the first time, it has been revealed.
The new-style Passat saloon and estate will include diesel models but, in the UK, no all-petrol versions.
Being 85kg lighter than their predecessors makes the new models up to 20% more fuel efficient, VW says.
The manufacturer says the new-look, eighth-generation Passat is aimed at sitting between segments of the market occupied by the BMW 3-series and the Ford Mondeo.
All the new vehicles will feature technology enabling them to park themselves into forward-facing perpendicular spaces. They also sport more-spacious boots and interiors.
The hybrid version, which combines an electric motor with a 1.4-litre petrol engine, is said to be capable of travelling 31 miles using only electric power and has a total range of around 600 miles.
The new Passat is set to go on sale in the autumn, priced from around £22,000.
Since it was launched by VW 41 years ago, the Passat has chalked up some 23 million sales.
Copyright Press Association 2014