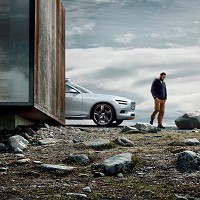 Volvo's latest design language has been taken up a notch, with a tantalising hint of its forthcoming "XC" series.
The Swedish vehicle maker's Concept XC Coupe will be granted its full unveiling at next month's North American International Auto Show (NAIAS) in Detroit.
But for Volvo fans who can't wait, the manufacturer has issued a trio of sneak preview pictures.
Each photograph shows the car capped by a slimline roof box, which suggests its lifestyle aspirations. Senior Vice President of Design at Volvo, Thomas Ingenlath, is behind the new look, which will ultimately influence its road cars.
He joined the firm with the mission of developing a more forward-looking, passionate, iconic brand design.
This is the second of three proposed design concepts employing the new appearance. The first, the Concept Coupe, was a smooth top-of-the-market car for tech-savvy business users.
The Concept XC is aimed at users with an active lifestyle.
Full details and further photos are expected on January 8, before the NAIAS opening day.
Copyright © Press Association 2013