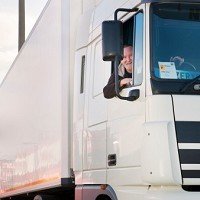 Officers in the Commercial Vehicle Unit have the authority to use the Graduated Fixed Penalty and Roadside Deposit Scheme from October 1.
Different penalties are in force for a range of offences committed mainly by commercial vehicles, such as those used for construction and transport under the new legislation.
A new table of Graduated Penalty Notices includes the offences and the corresponding penalties of £30, £60, £120, £200 or £300. Officers will refer to this table and the relevant fine when stopping a driver for committing an offence.
The new law allows an officer to ask offending drivers who are not UK residents or who do not have a permanent address where a summons can be sent to make a roadside monetary deposit. European companies sending commercial vehicles into the UK should become familiar with the change of practice.
Motorists can make the deposit in either UK pounds Sterling or via a Credit/Debit card payment. It will be a deposit against a later fine that the Court or the Fixed Penalty Notice system will impose. The officer is collecting the deposit in the name of the HM Courts Service.
If the motorist fails to make a deposit, the law allows the officer to immobilize the vehicle until a deposit is made.
Copyright © Press Association 2012