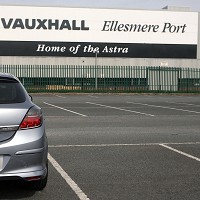 The release of Vauxhall's newest Astra model has given workers the opportunity to "visibly see their future", a plant manager said.
The new Astra, now available for sale, will be built at the Ellesmere Port factory in Cheshire, but there are fears that a takeover by Canadian firm Magna will jeopardise the site and the jobs of its 2,165 employees.
"This product is so important to Ellesmere Port," said plant planning manager Lindsey Wickens. "People can visibly see their future moving down a conveying system."
She added that all the employees can do is keep working, despite the ongoing discussions between the Government and Magna. "I think the Magna discussions are external to the plant and the only thing we can do as a plant is build this product at a high quality and low cost," she explained.
"The single biggest thing is this vehicle is built in the UK, and I think people have a genuine loyalty to that. We sell a lot of vehicles across the world, we sell a lot in Europe but we also sell a lot of cars here in the UK."
Copyright © Press Association 2009