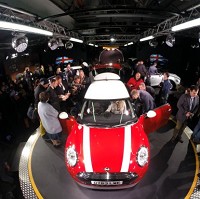 The typical new car registered in the UK last year hit European CO2 emission targets, according to a new report.
An average vehicle emitted 128.3g/km CO2, according to the Society of Motor Manufacturers and Traders' (SMMT) New Car CO2 Report 2014.
This is a 3.6% fall on the previous year's figure and passes the 2015 EU-wide fleet average target of 130g/km CO2, the industry body said.
The reduction is being attributed to more motorists plumping for more fuel-efficient cars. The report's authors also praise manufacturers for investing heavily to develop, deliver and market lower CO2-emitting models.
New motors are 20% more efficient than average cars. Drivers also have an expanding choice of alternatively-fuelled vehicles (AFVs), with a 300% rise in the amount of plug-in models over the past three years.
Registrations of AFVs rose 17.6% to 32,731 last year, with 7.7% accounted for by pure-electric vehicles.
The report also showed that registrations in the Mini segment nearly doubled over 2013.
Mike Hawes, SMMT Chief Executive, said the UK car industry should be "proud" of its progress in developing more eco-friendly vehicles.
Average new car CO2 emissions are nearly 30% lower than in 2000.
Copyright © Press Association 2014