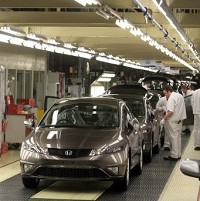 Britain's new car market has enjoyed a rise in registrations for the 41st successive month, according to latest official figures.
The Society of Motor Manufacturers and Traders (SMMT) reports that 178,420 new motors were registered over July.
This represents a 3.2% increase on July 2014 and pushes the total number of new registrations over the 1.5 million mark so far this year. This is 6.5% up on the opening seven months of last year.
Super-minis have helped fuel this growth, being one of the best-selling sectors so far in 2015, alongside crossovers and SUVs (dual purpose vehicles) and small family vehicles.
The first two have seen particularly sharp sales increases over the past decade.
Superminis, particularly, have surged ahead in popularity, recording 22.7% growth over the past 10 years as more and more drivers downsize to smaller vehicles. They also offer motorists substantially better specification, comfort and refinement than they did in 2005.
Dual purpose machine growth has mushroomed by 88.5% during the last 10 years with makers launching more versatile models to expand their popularity.
The trend for buying a car built in Britain has slightly eased, following the first six months of 2015 which saw a record number of registrations.
Industry experts believe July will set the trend for the rest of the year with more modest growth.
The latest figures maintain the constant upward curve in new UK car sales over the past three-and-a-half years. This is largely attributed to enticing finance deals, low rates of interest and more economic confidence.
Chief Executive of SMMT, Mike Hawes calls the latest figures "good news". He says that July's numbers are typical of what the Society expects to see before the end of the year.
Mr Hawes predicts car sales growth to become "more stable" in the months ahead, having achieved all-time high demand over the opening six months of 2015.
Copyright Press Association 2015