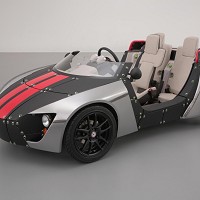 The world's biggest car-maker has chosen to unveil its latest concept at a toy show.
Toyota 's Camette57s is a three-seater, soft-top and electrically-powered car featuring 57 changeable body sections that can be replaced by panels in various colours, and children can help personalise models and even drive it.
Based on the Japanese word for 'care' the Camette57s is designed to allow parents and children to work together to design the look of their car.
Not only can youngsters help design the car, they can drive it themselves too, as long as they are off the road. The Camette57s has a movable front seat and pedals so younger drivers can take it for a spin, with the right rear seat allowing their parents to help them steer and brake if they wish.
Abreakdown of its characteristics reveals a sleek one metre high design but it is three metres in length, making it a little longer than Toyota's iQ city car. It builds on the Camette concept the Japanese car giant unveiled last year but without the added family fun and individualisation qualities.
Copyright Press Association 2013