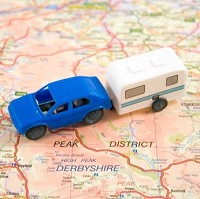 Thousands of motorists are towing caravans with no training, according to research, sparking fears they could pose a safety risk.
The study shows the increasing popularity of caravanning, with one in five planning a caravan or camping holiday this year. It also reveals one in five towing a caravan, trailer or boat only took up the hobby less than six months ago, with 40% admitting they've never had training on how to tow safely.
With the school holidays getting under way caravanning enthusiasts are likely to be out in force, with journey planner aids getting some heavy use.
Nissan, which carried out the study of 3,000 UK adults, has teamed up with the Institute of Advanced Motorists to issue tips to help ensure novice towers are clued up before driving.
Motorists' vehicle handbooks will confirm their maximum towing weights and towers are reminded that speed limits are 60mph on motorways and dual carriageways and 50mph on most single carriageways.
Those planning to tow should allow more time and space for braking and accelerating and select a lower gear for travelling up and down hills. They should also check they're legally allowed to tow as requirements differ according to when licences were issued.
Copyright © Press Association 2012.