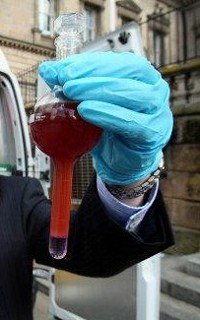 Customs officials on both sides of the Irish border have developed a new test to detect tampered fuel, it has been revealed.
The on-the-spot screening technique avoids the need for time-consuming laboratory analysis by detecting in under a minute whether a petrol sample has been stretched by adding methanol.
The test is being seen as a valuable weapon to combat the illicit trade in which the UK and Irish authorities lose hundreds of millions of pounds annually. More than a million litres of fuel were seized last year.
And the problem of petrol stretching is growing, Pat Curtis, manager of the road fuel testing unit within HM Revenue and Customs in Northern Ireland revealed.
"Criminals are cutting petrol with methanol and ethanol - basically paint thinners," he said.
"This is not good for the engine but is cheaper to buy - it's about 20 to 25 pence a litre while petrol is over a pound."
Customs officials have been using the test since last week after Mr Curtis and his staff created the technique with counterparts in the Republic.
The test uses a special solution to absorb the illegal substances.
Copyright © Press Association 2009