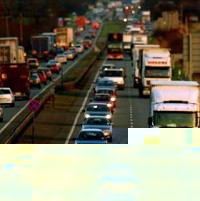 Around £70 million of jam-busting technology is to be installed on the A14 to improve safety and reliability for drivers.
Fibre optic cables will be fitted along the length of the road which will transmit real-time traffic information to 72 electronic overhead signs.
Closed Circuit TV will monitor the movement of traffic and any traffic jams ahead to provide automatic updates to drivers warning them when they are approaching a queue.
It is hoped the system will reduce the number of rear-end shunts as drivers slow down well ahead of building traffic.
The signs will also be used to provide journey time information and advice on alternative routes when a road ahead is heavily congested or closed.
Transport minister Chris Mole said: "The A14 is a key strategic route linking the Port of Felixstowe in East Anglia with industrial centres in the Midlands.
"This £70 million investment reflects our commitment to improving safety and reliability for drivers on our major roads and will deliver benefits to the wider economy."
Copyright © Press Association 2009