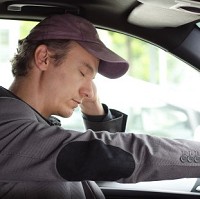 Coach drivers who regularly work long hours may soon have their fears of nodding off behind the wheel alleviated, through a short, sharp shock to the system - quite literally.
An pioneering alternative safety system is being tested, which sends vibrations through the seat and sounds an alarm whenever a driver is believed to be falling asleep behind the wheel.
Its wholesale introduction may also have potential implications on the rules governingcar insurance . The system is said to work by tracking eye and head movements with an infra-red camera, and reacting to anything deemed "suspicious".
Tests are being carried out on drivers at five coach companies across the UK.
Named the Fatigue Monitoring System, it is manufactured by Australian firm Seeing Machines.
Its chief executive, Ken Kroeger, said: "Eye-tracking technology has a major part to play in keeping drivers and passengers safe on the roads.
"The technology has already been proven in extreme environments, such as open-cut mines, and now promises to bring the same benefits to public roads.
"While coach travel has a good safety record, accidents do happen. These are often shocking and incredibly sad, with many unfortunately caused by driver fatigue or distraction.
Copyright © Press Association 2013