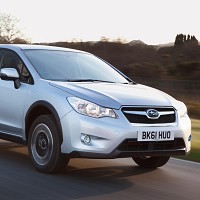 The Subaru XV held off fierce competition from Audi, Kia, Mazda, Nissan and Volkswagen to claim the title of 'SUV of the Year' in 4x4 Magazine's annual awards.
The Japanese car maker's recently launched compact crossover was tested by the magazine on and off the road and emerged victorious in a special '4x4 of the Year' issue.
The rise of compact crossovers has seen the SUV market thrive in recent years, with 4x4 Magazine's editorial team praising Subaru's ability to make an immediate impact.
The XV delivered an 'enjoyable' and 'involving' drive, is fuel efficient and has significant off-road capabilities, according to the magazine. Subaru's customer service package, Everything Taken Care of (ETCo), also impressed the judges.
Nigel Fryatt, editor of 4x4 Magazine, said: "The SUV class in 4x4 Magazine's 4x4 of the Year test is one of the most competitive. The Subaru XV was an interesting new arrival in that class, which did much to impress judges."
Copyright Press Association 2012