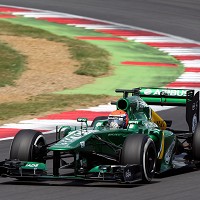 A new low-priced version of the long-running Seven model has been announced by British sports car maker an F1 team owner Caterham.
Dubbed the Seven 160, a turbocharged 660cc Suzuki engine lurks under the bonnet and there is enough to power the lightweight Seven from 0-60mph in 6.5 seconds, despite the engine only offering a modest 80bhp.
The hallmarks of the original Seven are seen in the simple live rear axle, downsized engine and clutter-free cabin, all helping it achieve a remarkable 495Kg overall weight. The modern Suzuki unit adds further efficiency, allowing the Seven 160 to pass the latest EU6 emission regulations.
Prices for the new model start at only £14,995 in component form or £17,995 fully built. Graham MacDonald, Caterham Cars CEO, commented: "The 160 offers something truly different to the entry-level market. It's more economical, more accessible and every bit as fun on the road as other Sevens but has its own unique personality."
The first deliveries of the Caterham Seven 160 in to the UK are expected in the Spring, with production starting in January 2014.
Copyright Press Association 2013