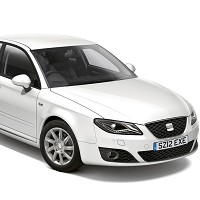 Car giant Seat has welcomed its two new Exeo Ecomotive models on to the market.
The new vehicles, the most environmentally friendly yet brought to market by the company have a fuel economy of around 62.8 miles per gallon (mpg) and CO2 emissions of 117g/km.
While the two Ecomotive models have the same efficiency they have different power outputs - meaning the cost ofcar insurance cover for them will probably vary too.
The 141bhp and 118bhp models are both available in estate and saloon body styles, and people thinking of purchasing one can select from a full range of trim choices.
The cars include a number of features that have helped it fall into a lower road car band - good news for drivers looking to make savings on the cost of motoring. The features include stop-start engine technology, an energy recovery system, Goodyear low rolling resistance tyres and lowered suspension for improved aerodynamics.
Costing just £20,040, the lower powered of the two cars is the cheapest model in the Exeo series.
Copyright Press Association 2012