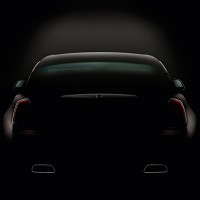 Rolls Royce is breaking with tradition and pushing the boat out with its' promotion of the more dynamic Wraith luxury sporting model.
Due to be launched soon at the Geneva Motor Show, the usually reserved car giant has released another teaser image outlining the car's rear aspect, following an earlier image released to show the car's side profile and lit from above by a spotlight effect.
According to Rolls the new image is meant to show the car's "muscular rear haunches - a visual cue that gives bold expression to Wraith's promise of dynamism," and describing the driving experience as offering "a sense that this is a car set to move with purpose on its driver's command".
Rolls-Royce, whose long-established reliability means owners will seldom use theirbreakdown cover , is being unusually bullish in pushing the idea that the Wraith is more dynamic than other models past and present.
The company was subtle in outlining the additional faith that Rolls' have in the new model, as it continues: "And so to the question of power. In times gone by, when asked the question, Rolls-Royce would simply reply, 'Adequate, Sir'. However, for Wraith we feel it right to be a touch more explicit: 'More than ample'."
Copyright Press Association 2013