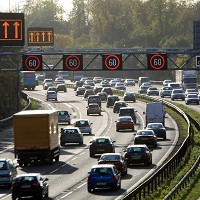 Road users' voices "are to be heard" thanks to a new watchdog announced by the Government.
Transport Focus is to build on the work of the Office of Rail Regulator (ORR) and Passenger Focus to ensure that roads policy is "accountable to taxpayers", Road Minister John Hayes promised.
England's motorists will be able to submit their views on the running of the country's motorways and A-roads, which are currently under the remit of the soon-to-be government-owned Highways Agency.
As well as the introduction of this new strategic highways company (SHC), a road monitor - Strategic Road Network Monitor - had been unveiled as a new part of the ORR.
It will check on the performance and efficiency of the SHC and ensure it is fulfilling the terms of its licence and the requirements of the road investment strategy.
RAC Foundation director Professor Stephen Glaister said: "This is a small but important change and gives all road users an official voice.
"The challenge for Transport Focus will be to adequately resource their operation to make sure they register the concerns of tens of millions of road travellers and then get those concerns heard at the top of government."
The changes form part of the Infrastructure Bill, with amendments giving powers to the ORR to carry out independent enforcement activity if the SHC falls short on its commitments.
Copyright Press Association 2014