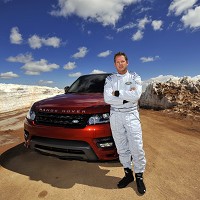 A new gold standard for production-standard vehicles has been set at the Pikes Pike International Hill Climb course in Colorado.
The all-new Range Rover Sport completed the course, the home of the spectacular annual competition known as The Race To The Clouds, in just 12 minutes 35.61 seconds.
Driver Paul Dallenbach tackled the 156 corners of the 12.42 mile course at an average speed of 59.17mph.
The Pikes Peak course ascends beyond the treeline from 9,390 feet (2,860m) above sea level to 14,110 feet (4,300m), where the air contains only 58% of the oxygen it does at sea level, which has the double impact of diminishing engine performance and blunting human physical and mental performance.
Dallenbach said: "There's no margin for error at Pikes Pike - you only need to misjudge one of those 156 turns and you're into the trees or over the edge of the mountain. To take on this place the way I did today, you need complete confidence in your vehicle, and the Range Rover Sport sure gave me that - it's fast, responsive and agile."
If you are planning to use a Range Rover Sport for normal, everyday driving, and not racing for the clouds, The RAC can provide the bestcar insurance quotes .
Copyright Press Association 2013