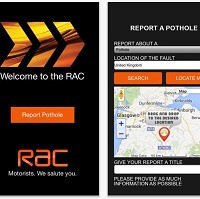 New breakdown figures released by the RAC suggest potholes still "cast a cloud" over the quality of our roads.
The volume of suspension spring error-related RAC call-outs to motorists taking advantage of their breakdown cover was up 82% to almost 7,500 over January and February - despite it being a fairly mild winter.
The figure contrasts with 4,000 cases in the same period last year and 5,600 during the far colder winter of January and February 2013.
Meanwhile, The Asphalt Industry Alliance (AIA) has today reported that o ne in six roads are still in poor condition despite more potholes being filled in, with more than £12 billion needed to sort out repairs.
The replacement of suspension springs can cost drivers up to £350, and the RAC says a collective repair bill of over £1 million a month can be largely attributed to the state of the UK's roads.
Together with pothole reporting site Street Repairs though, progress is being made after jointly developing the new app, RAC Report Pothole .
The app helps drivers to alert road authorities on the location of potholes, broken street lights, discarded cars and other highway defects in a more successful and simple manner.
It enables drivers to upload pictures and photos straight to officers directly responsible for road conditions.
And early feedback suggests the application is leading to potholes being fixed more quickly.
David Bizley, chief engineer for the RAC, said: "When a vehicle's spring fails it can't be driven and usually results in a call to us as the owner can't simply take it to a repairer.
"The problems caused by bad quality road surfaces are not confined to suspension springs either - shock absorbers can be affected, and tyres and wheels potentially damaged.
"The sharp increase in suspension spring faults that we have seen across the country really does cast a cloud on the quality of our roads.
"We will be closely monitoring these figures in the coming months to see whether the trend continues.
"Experience tells us that these problems are normally worse in the first half of the year.
"So if numbers are still high come the summer we will know that local authorities are still struggling to get on top of the maintenance backlog."
Mr Bizley continued: "Research from the latest RAC Report on Motoring shows that motorists are growing increasingly concerned about the state of the roads - with 41% of those surveyed in 2014 telling us it's a major issue, and two-thirds believing their local roads have been neglected and have deteriorated in condition.
"In addition to highlighting the poor state of our roads we wanted to help motorists do something about getting repairs carried out.
"Reporting a pothole could not be easier as you simply enter the location or use the app's mapping tool and describe the issue."
Copyright Press Association 2015