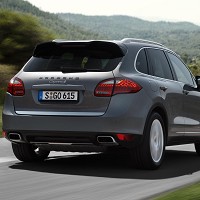 The new Porsche Cayenne S Diesel combines excellent fuel economy and impressive torque figures in some very attractive packaging, the firm has indicated.
Styled in almost identical fashion to the petrol Cayenne S, the Cayenne S Diesel also boasts a fuel consumption rate of 34mpg.
With a tank capacity of 100 litres, the V8 diesel SUV could theoretically go 745 miles between fuel stops.
The 627lb.ft torque figure outstrips the standard Porsche 911 by a factor of two. With the 4.2-litre V8 engine kicking out 376bhp, the Cayenne S Diesel can accelerate from 0-62mph in 5.7 seconds and it has a top speed of 157mph.
Porsche expects to launch the Cayenne S Diesel in early 2013 with prices ranging from £58,243.
With a substantial initial outlay, customers may be looking for cheapercar insurance to go alongside the vehicle's fuel economy.
More consumers are starting to consider their environmental footprint and the Cayenne S Diesel's CO2 output is 218g/km, thanks in part to the engine's stop-start system.
Copyright Press Association 2012