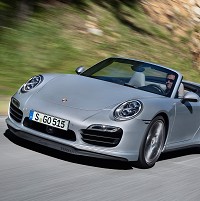 Porsche will debut two new and eagerly-anticipated flagship 911 Cabriolet models - the Turbo and Turbo S - at the Auto Show in Los Angeles on November 20.
Both models are said to mirror the new CoupŽ model in terms of dynamism, performance and efficiency.
The turbocharged 3.8-litre six-cylinder engine provides 520 hp (383 kW) in the 911 Turbo and 560 hp (412 kW) in the S model.
The vehicles go from 0 to 100 km/h (62 mph) in 3.5 and 3.2 seconds respectively, with a top speed of 197 mph. They combine this high performance with impressive fuel consumption figures.
The rear wings of the new 911 Turbo generation are 28mm wider than those of the 911 Carrera 4 models, drawing attention to the performance of the top-of-the-range models.
Each 911 is also fitted with a Porsche Vehicle Tracking System, a security package approved to Thatcham Category 5 standard.
Motorists have the chance to take the new models for a spin courtesy of a complimentary course at the Porsche Experience Centre at Silverstone.
Copyright Press Association 2013