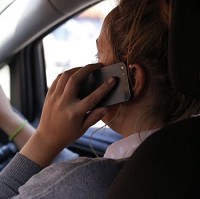 Britons' driving habits are sometimes shaped by their prejudices towards fellow motorists, a new survey suggests.
For example, many motorists will not let other cars out if they see the driver using a mobile phone.
A motorist also lowers their chances of being let out if they drive a car perceived by others as flashy.
People often also judge other drivers on the make, cleanliness and colour of their vehicle, Continental Tyres' poll of 2,000 motorists finds.
The tyre firm claims that 45% let their prejudices impact upon how they react to other motorists.
Over one in three confess to letting their assumptions make them show greater or less recklessness on purpose.
Even something as basic as an everyday car sticker induces some drivers to act aggressively, the survey finds.
As many as 60% of motorists get angry if they see stickers supporting a rival football club or other sports team, group or cause.
Continental Tyres' spokesman Mark Griffiths described the new poll's results as "alarming", especially the 34% of motorists who change their behaviour because of relatively trivial things such as dirty cars.
Mr Griffiths said that the poll has been aimed at understanding the manner in which drivers behave.
Copyright Press Association 2015