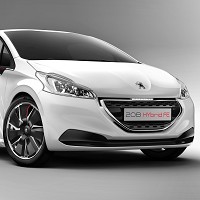 Peugeot has unveiled a new non-plug-in hybrid that combines power with green driving which could revolutionise car making.
The French manufacturer's 208 supermini emits just 49g/km of CO2 while being able to reach 62mph in 0-8 seconds.
If Peugeot's technological achievements become the norm, the way cars are built could be totally redefined.
Only plug-in hybrid cars are presently able to hit such low emissions figures.
But Peugeot has used existing technologies and innovative thinking to provide a largely realistic emissions-reducing platform.
The 208 Hybrid FE is without power steering, but rides on slim 145-section 19-inch tyres.
It arrives with carbon fibre body panels and part-polycarbonate glazing, and employs a pioneering suspension system that saves kilograms of weight at each corner.
The car employs a self-managing hybrid system, so minimising the chance of abreakdown .
It cannot be plugged in to the national grid, in the same way as the ultra-successful Toyota Prius. Connected to a frugal 1.2-litre three-cylinder petrol engine - actually a modified version of Peugeot's 1.0-litre unit - is a super-efficient electric motor that weighs just 7kg.
The new 208 uses normal 95 RON unleaded fuel.
It should give a conventional driving experience, potentially transforming production cars that use its technology into industry-wide game-changers.
Copyright © Press Association 2013