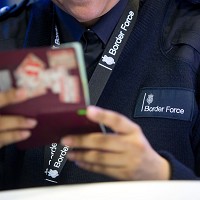 The first day of passport checks for travellers leaving Britain has begun smoothly, with passengers passing through ports without delay.
There had been fears that the exit checks would lead to long queues at ports such as Dover.
But the Government decided on a phased introduction of the checks and this appears to have paid off.
A P&O Ferries spokeswoman at Dover said: "Everything is running smoothly and there are no delays."
Roll out
The hope is that the exit checks will improve the Government's understanding of who is leaving and staying in the country, as well as help the police and security services track the movements of known criminals and terrorists.
Concerns that passengers would face long queues - and potential delays - as they embark on trips overseas, look to be so far unfounded.
In an attempt to minimise any possible disruption, the exit checks are being introduced gradually over several months.
All passports will be scanned but only 25% of the passport holders will have their details verified to ensure they are genuine during the first month, before a move to 50% verification after this initial period.
A figure of 100% verification will be introduced by the middle of June, if everything goes according to plan.
The exit checks will predominately affect cross-Channel and Channel Tunnel travellers, including those heading to Europe in cars, with passengers arriving at the port of Dover having to have their passports scanned.
Other sea ports nationwide will also be getting in on the act, as will airports. But as airlines will be providing passenger information from an individual's travel documents in advance, air passengers will not notice the new system.
Vital information
While the actual scanning of passports is quick, the verification takes a little longer. But the Home Office believes the checks will prove to be a valuable asset in providing an immigration system that is fair.
Security and Immigration Minister James Brokenshire says they will help tackle illegal immigration and clamp down on individuals that try to cheat the system by staying in the country when they have no right to do so.
He claims exit checks will provide vital information that confirms a person's exit from the UK.
The Government has worked closely with port and travel operators to design and trial the new system of checks for collecting data from passengers in a way that will minimise the impact to their journeys.
Copyright Press Association 2015
https://www.gov.uk/government/organisations/home-office (Home Office)