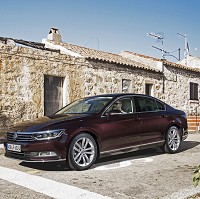 British motorists keen to get their hands on Volkswagen's latest Passat will not be able to buy a petrol-only model, the German giant has revealed.
The eighth generation of the popular saloon car will only be available with diesel engines in the UK at first.
But an electric hybrid version, which will take petrol, is expected to hit the UK market towards the end of next year, while the diesel models will be on sale in January.
Volkswagen has decided against making a petrol version as they have sold less well in recent years.
The firm is hoping the Passat will continue to be successful in the fleet and company car market.
Its low fuel economy and low CO2 output have appealed to the business market in the past, especially when high mileages are involved.
The new Passat comes with a choice of four diesel drive-trains, a 1.6-litre 118bhp engine, two single-turbo 2.0-litre units generating 148bhp or 187bhp, plus a bi-turbocharged 2.0 litre option delivering 236bhp.
Copyright Press Association 2014