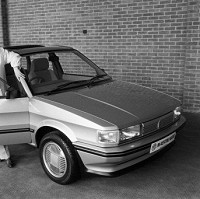 A unique car which only has 102 miles on the clock, despite being made 30 years ago, is to be sold at auction.
The 1984 Maestro 1.3 HLE has been stored in a garage since new and is in perfect condition.
The gold model comes with berber tweed upholstery and is expected to fetch between £3,250 and £3,500. Also in the car are the original carpet protectors from Henley's the main dealer and the original 1984/5 tax disc.
In fact, the only non-original item is the battery, which was replaced to allow the car to be moved from the garage.
It is thought the seller discovered the vehicle in a garage in south-east London which was due to be demolished. When discovered, the car had just 100 miles on the clock, with the seller adding two himself.
The car will go on sale at Barons' British Heritage Sale at Sandown Park on Tuesday. Also included in the sale are selection of cars from manufacturers such as MG, Lotus, Austin-Healey, Jaguar and Triumph.
Copyright Press Association 2014