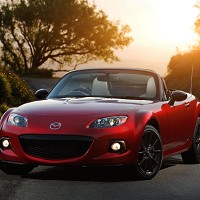 Mazda has released a limited edition version of its classic MX-5 roadster to mark its 25th anniversary.
Available from August, the MX-5 Roadster Coupe 2.0-litre will be produced in a limited run of just 1,000 models.
In recognition of Britain's long-standing affection for the car, 750 of these cars will be made available to UK customers.
The first limited edition MX-5 off the production line will be unveiled at this year's Goodwood Festival of Speed on 26-29 June.
The car, which is based on the current Roadster Coupe 2.0-litre Sport Tech Nav, will come with a range of features as standard; including a model-unique Soul Red Metallic paint finish.
The car will also have black door mirrors and A-pillars to give it a distinctive look.
The MX-5 was first released on 9 February 1989 at the Chicago Auto Show. Not since the 1970s had that category of vehicle been so popular with motorists and sales far outstripped the company's predictions.
In May 2000 global production reached 531,890 and the MX-5 entered the Guinness Book of World Records as the world's best-selling two-seater sports car in history.
It is thought that since then, total global production has reached over 900,000.
Copyright Press Association 2014