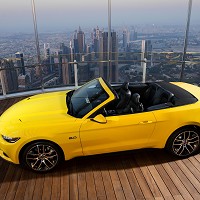 Ford has always aimed high, but never quite as high as with its all-new Mustang.
Mechanics helped to publicise the model by assembling one on storey 112 of the planet's highest skyscraper - the Burj Khalifa in Dubai, United Arab Emirates.
The stunt was aimed at raising the company's profile in both Middle-Eastern and African countries.
As many as 10,000 enthusiasts watched the event from below, while YouTube viewers saw it from across the globe. Bill Ford, executive chairman of Ford, rounded off ceremonies by crowning the yellow car with its trademark pony badge.
The first right-hand-drive Ford Mustangs for the British market - in their half-century existence - will hit the UK from next autumn.
The new Mustang will also debut in Africa and the Middle East in 2015.
The stunt mirrors a similar one seen in 1965 when Ford showcased its new Mustang Convertible at the summit of New York's Empire State Building - then the world's tallest man-made structure.
Copyright Press Association 2014