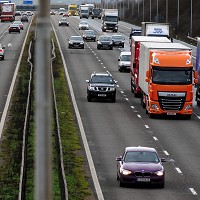 Wales is to get a brand new motorway to ease traffic jams on the M4 - and officials think it will boost the economy too.
The £1 billion project will also provide a new route across the Usk river near Newport and it is hoped this will be finished by 2022. A "black route" plan would take the new road between the existing M4 junctions 23 and 29.
There is some opposition to the scheme - which has been approved by the devolved government in Wales - from people who say it would be better for the environment and cost less to work on already existing roads.
But the Welsh transport minister says no alternatives that have been suggested would "reasonably" fulfil the project's aim to cut traffic jams. It is set to be the biggest capital investment the Welsh Government has made since it came into being.
Edwina Hart says the "common" congestion issues are leading to people not being able to predict their journey times, something a journey planner can help with. She says the problems often hit at rush-hour and particularly affect the road round Newport.
It is a "significant challenge" to sort out the issue, she says, but adds that it's important to make sure Wales has good infrastructure that can boost the economy.
There have been plans to ease jams on the M4 since 2004, when it was said the economy in Wales was suffering from the delays round Newport and tolls on the Severn Bridge. But in 2009, the idea was shelved when it was calculated that the cost would be £1 billion.
Copyright Press Association 2014