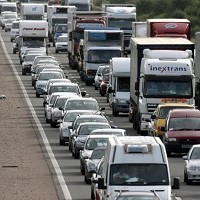 An agreement to let civilian traffic officers patrol the M4 will mean fewer traffic jams for drivers in Wales, it has been claimed.
The deal between the police and the Assembly Government will see officers - paid for by the Assembly - patrol the motorway with the power to control traffic, allowing police to concentrate on emergencies and serious incidents.
The patrols will first be tested on the A55 in North Wales and follow concern that diversions and long hold-ups after crashes on the M4 are harming the economy.
In a bid to cut crime, accidents and congestion, four Welsh forces have drawn up Y Maniffesto (The Manifesto) for policing the roads with the Assembly Government. It will see forces share information and resources, including GPS equipment for gathering evidence at crash sites.
Traffic officers will work with the emergency services to achieve "slicker incident management", according to North Wales chief constable Richard Brunstrom.
Speaking to BBC Radio Wales, he said: "You're going to see reduced congestion. The police service are accepting formally that we have a role to play in protecting and supporting the Welsh economy, and we've all seen the damage caused to the economy by incidents on the M4, for instance the M4 closed for 12 hours.
"Hopefully, that will be a rarity, if not unheard of, within two or three years` time."
Copyright © Press Association 2009