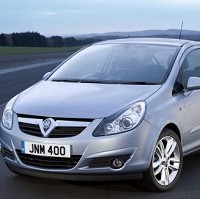 New UK motor sales have hit a record 1.6 million-plus for 2015 following August's 42nd successive month of growth, SMMT figures show.
The society reports that the year-to-date figure is 6.7% up compared with the first eight months of 2014, with finance agreements proving popular among budget-conscious buyers.
As many as 79,060 new registrations were issued last month - a 9.6% rise compared with last August, the SMMT says.
Ford's Fiesta and Focus lead the way as the two best-selling models with 4,753 and 2,673 sales respectively.
The VW Golf (2,456), Vauxhall Corsa (2,154) and VW Polo (1,911) occupy the remaining top five positions in the bestsellers' list.
A "strong" August saw increases across the industry compared with the corresponding period last year.
Private cars, business vehicles and fleet sector motors recorded growth of 7.2%, 12.1% and 11.8 respectively.
People buying a car continue to turn their attentions to alternatively-powered cars in growing numbers. This sector recorded a year-on-year rise of 52.3% and now represents 2.4% of general vehicle sales.
Experts expect there to be no let-up in the British car industry's growth as this month's new 65-plate gets underway.
Chief executive of the SMMT, Mike Hawes says that "attractive" finance agreements and an eclectic variety of high-tech vehicles have helped fuel last month's "strong" showing among UK dealerships.
He says that cash-conscious UK motorists have been tempted by low monthly payments offering both "affordability" and "certainty".
Copyright Press Association 2015