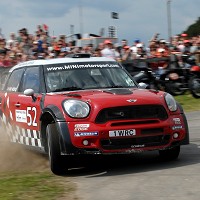 Mini is freshening up its array of Countryman models for 2013 and some will be ready to satisfy the new Euro 6 emissions rules.
The new regulations begin in 2014 and Mini will begin to meet them in some of its new cars this month.
Abreakdown of the new Countryman range reveals how buyers can choose from a similar range of engine choices - four petrols and three diesels between 89bhp and 215bhp - but the One and Cooper Countryman models feature ultra-low particle emissions.
Changes to the Countryman's looks include new Shade Carbon Black or chrome outer trims on the large speedometer and air vents.
Changes have also been made to the doors, with redesigned arm rests and electric window buttons added, allowing more space for the storage bin in the centre console.
In the back, buyers can choose between a three-person bench rear seat and two individual seats.
New interior colours are available along with fresh kit lists allowing wider personalisation opportunities, while six-speed automatic gearboxes are available as optional extras on all models save the One D Countryman, with manual versions fitted as standard.
Copyright Press Association 2012