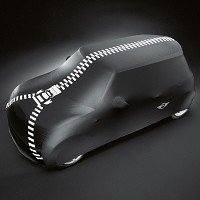 Mini's latest offering is set to be launched on the 107th anniversary of the birth of its founding father - Sir Alex Issigonis.
The Greek born designer was born on 18 November 1906 and Mini owner BMW is keen to celebrate this fact with the world premiere of the new car on 18 November this year.
It will be unveiled at BMW's Cowley plant in Oxford, followed by appearances at the Los Angeles and Tokyo motor shows later that week.
Staying true to the heritage of the original Mini, which first went on sale in 1959, the latest addition to the family is sure to be a hit with fans when it arrives in UK showrooms early next year.
BMW started making the new, bigger, Mini at Oxford in 2001 and the car has continued to catch the public's imagination with around 50,000 sold nationwide each year.
Copyright Press Association 2013