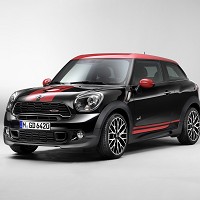 Mini will debut its new JCW Paceman at the Detroit Motor Show in January, the latest in its high-performance John Cooper Works range.
The JCW Paceman delivers its power through a six-speed manual or automatic transmission, to a four-wheel drive system to give impressive traction. It is powered by a 218PS version of the 1.6-litre turbocharged petrol engine, with a reliability record which means you will rarely utilise that breakdown cover.
In addition, breath-taking performance sees 0 - 62mph achieved in 6.9 seconds, with a top speed of 140mph capable in the manual version. Torque achievable is 207lb.ft through the efficient petrol unit, with an overboost facility topping this up to 221lb.ft for short bursts.
A unique bodykit makes the JCW Paceman stand out from the standard Mini classics. The John Cooper Works logos appear on the door sills and the 18-inch alloy wheels and a sports exhaust with chrome tailpipes add to the distinguished look.
The JCW Paceman still retains the normal comprehensive range of options that modern Minis offer, such as the body decals, colour choices and larger alloy wheels.
The Mini John Cooper Works Paceman will go on sale in the UK in Spring 2013, but prices are yet to be confirmed.
Copyright Press Association 2012