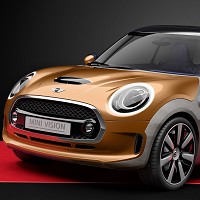 Mini fans have been given a tantalising look at what the next generation of the car might look like - and it is some departure from the classic look.
The Mini Vision concept has a sleeker design and a more bulbous rear end than the popular hatchback's established style, with the designers focusing more than ever on aerodynamics.
Drag at the rear end is reduced by a roof spoiler, while the front wheels incorporate vents to boost air flow, along with newly-shaped door mirror housings to further streamline the ride.
The conceptual interior includes a deeply-dished steering wheel and a circular central digital display that looks rather more like a radar screen than an infotainment unit.
Mock Union Jack designs on the interior door panels are a nod to the iconic brand's traditions and these are stretchable for securely holding drinks and other everyday items.
Any Mini fanatics desperate to seek out acar insurance quote and get behind the wheel of this latest incarnation will have to hold their horses for the time being, though, as there is no real indication as to when the new features will become a reality.
Other new cosmetic additions include a paint job called Glamorous Gold - said to be a "shimmering gold-tinged orange tone" - and a new kind of durable upholstery apparently bringing to mind the qualities of high-class tailoring.
Copyright © Press Association 2013