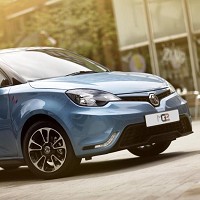 The new MG3 supermini will be one of the cheapest vehicles of its kind to get cover for when it hits UK dealerships next month.
Manufacturers hope this will make the model even more appealing to young motorists who might struggle otherwise without cheap car insurance costs.
The MG3 has been given insurance ratings that begin at Group 4E.
But low insurance ratings do not mean low oomph, and the MG3 has a robust 105bhp petrol engine while being billed as fun to drive.
Prices range from £8,399 for the 3TIME base model to £9,999 for its top-spec model.
Each MG3 arrives with LED daytime running lights, hill hold function, six airbags and ESP stability control.
Andrew Lowerson, MG's Product Manager, said: "We've made a car that is very affordable, fun to drive and offers more styling options than most in this class."
Lowerson called the low insurance rankings announcement the "icing on the cake" for MG.
Copyright © Press Association 2013