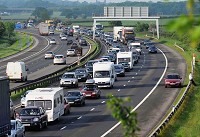 Road Safety Minister Paul Clark has announced plans to crack down on uninsured drivers.
Under the new measures, it will be an offence to keep an uninsured vehicle, rather than just to drive it.
The aim is to make it easier to catch uninsured drivers, of which there are around two million in the UK.
The crackdown will see the DVLA work with the insurance industry to identify drivers with no insurance.
Motorists will receive an initial letter warning them their vehicle is uninsured. If ignored, they face a £100 fine. And if the vehicle remains uninsured, it may be removed and destroyed.
Mr Clark said: "These tough new measures will catch anyone who is keeping an uninsured vehicle, leaving them with nowhere to hide."
The regulations are expected to come into action in the next financial year.
It is estimated that uninsured driving adds around £30 a year to every insurance premium, about £400 million in total. Around 300,000 people are convicted of uninsured driving every year, and face penalties of a £5,000 fine and 6-8 penalty points.
Copyright © Press Association 2009