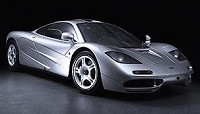 McLaren will christen its new supercar the MP4-12C at its unveiling this week.
The first of three models set to be released over the next six years, the new supercar was earlier codenamed P11.
Ron Dennis, executive chairman of McLaren Automotive described the car to The Sunday Times.
Mr Dennis said: "It's an iconic design, like the E-Type Jaguar and, on all performance parameters and price, will be better than our competition."
The new supercar will use the high-revving V8 engine encased in a carbon fibre chassis, an automatic variable rate chassis and features a seven-speed gearbox.
The former head of the McLaren Formula 1 team has ambitious plans for the company. One of the cars that McLaren plans to introduce, is a £70,000 supercar that would directly compete with the Porsche 911.
The other is touted to be a top-end hypercar priced at over £300,000 and is said to rival to the Porsche Carrera GT.
Mr Dennis said: "We're building more than a car, we're building a brand."
Copyright © Press Association 2009