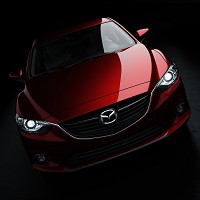 Mazda is planning to give the world its first glimpse of the new Mazda6 sedan at the Moscow Motor Show next month.
The Mazda6 D-segment will be unveiled at 11.30am local time on Wednesday 29 August at the Russian capital's flagship motor show.
The Mazda6 sedan is the second model in Mazda's new generation of cars which incorporate the full range of SKYACTIV technologies, which aim to fuse driving satisfaction with eco-friendly performance and road safety - although drivers will, of course, still needbreakdown cover .
An eagerly-awaited addition to the Mazda stable, the sedan will come with a 4-cylinder 2.0-litre Skyactiv-G petrol engine.
It will also be the first Mazda to come equipped with their new brake energy regeneration, i-ELOOP, a crucial plank in the company's strategy to develop environmentally-sound technologies.
Engineers and designers have sweated over the Mazda6 sedan to try and ensure it offers both a swift, responsive drive and that hint of Mazda luxury. The Russians, it seems, are in for a treat.
Copyright Press Association 2012